Moby Dick is widely considered one of the greatest novels of all time. The classic tale by Herman Melville tells the story of a man obsessed with catching the legendary white whale himself, Moby Dick. Here at Mega Casino, players are challenged to join the book's main character, Ahab, on his quest to capture the mythical beast and to score some potential wins along the way.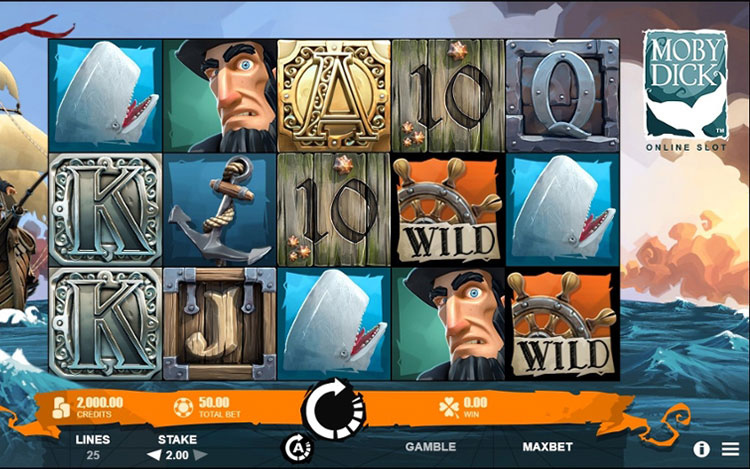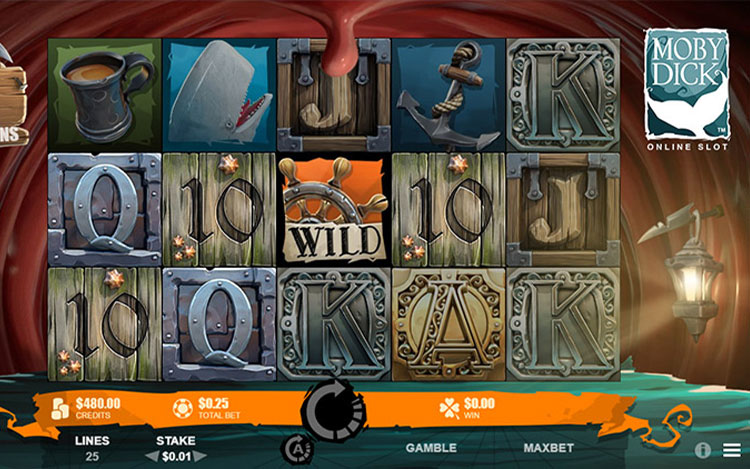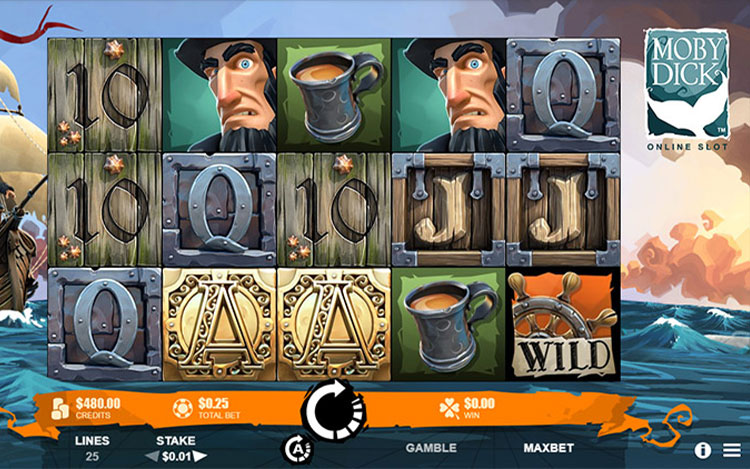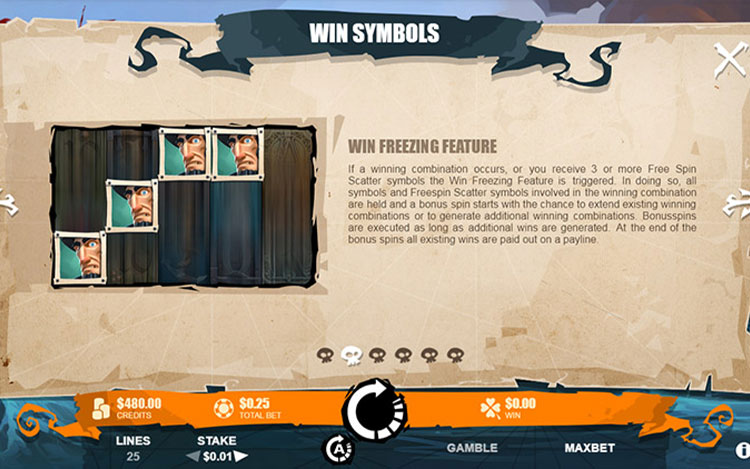 Moby Dick Game Description
The tale of Moby Dick is one of literature's most iconic works and it has been brought to life in a new and exciting way here by Rabcat Gaming. The title has been distributed through Games Global as a result of the latter's partner program. You can find many exciting online slots from Games Global right here at Mega Casino.
The striking and animated background of the Moby Dick slot game has players floating on the high seas, as Ahab props his wooden leg upon the bow of a ship. His other leg, of course, was devoured by a white whale, and now he seeks his revenge on the creature responsible. It's a tale as old as time, and this slot provides a fresh and innovative take on the story.
Of course, both Ahab and Moby Dick make appearances on the reel. They are joined by several items related to Ahab's ship, alongside the standard royal card symbols.
How to Play Moby Dick Slot Online
Luckily for players, playing the Moby Dick slot game is not as treacherous as attempting to catch the White Whale itself. The battle between man and nature takes place on a 5x3 grid with 25 paylines on each spin.
To get started, players will need to select their stake per line. The minimum stake per line is £0.01, totalling £0.25 per spin, while the maximum is £2, coming to £50. Once you have set a wager amount you are happy with click the central spin button to start playing. Auto spins can be found to the left of this button and they allow for 10, 25, 50 or 100 spins.
Moby Dick protects a treasure and catching him across a payline can lead to some of the slot's biggest payouts. The maximum win in the slot is 200x the overall stake. The game has a theoretical RTP of 96%.
One thing that Ahab didn't have to help him catch his nemesis was a mobile phone. Luckily for you, times have changed and you can now attempt to catch the legendary whale on your mobile device. You can play Moby Dick on mobile right here at Mega Casino using your Android or iOS devices on a range of different mobile browsers.
Meet the Moby Dick Game Features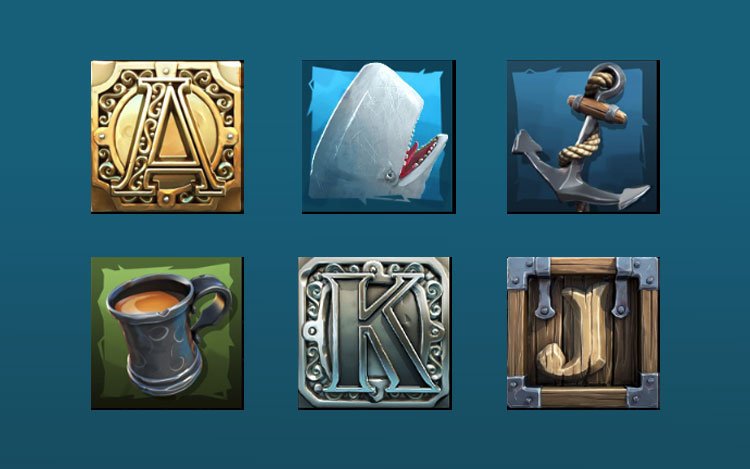 Ahab's battle to catch Moby Dick is the stuff of legend. If you want to help him out, you are going to need a few bonus features to help you do so.
Win Freezing Feature
After every win, the winning symbols plus any scatter symbols stay in place as a bonus spin takes place, giving players a chance to generate another win or even extend the current one. They continue until no extra wins are generated. This feature is also triggered by three or more scatter symbols.
Bonus Spins
Four or more scatter symbols reward players with bonus spins. Four scatter symbols return 10 bonus spins, five scatters give 12 bonus spins, six awards 15, and triggering bonus spins with seven or more scatter symbols gives players 20 bonus spins. During the feature, up to three wilds can appear on the third reel and more bonus spins can be earned.
Gamble Feature
After each win players can also choose to gamble their winnings, it involves choosing from one of two mugs of tea. A copper and silver mug, one contains a teabag and one contains a fishbone. Select the mug with a fishbone and winnings are lost and players return to the slot. If they guess correctly they double their winnings and have the opportunity to guess four more times or until they lose.
Moby Dick FAQ
What is the maximum bet for Moby Dick?
The maximum bet a player can place on a single spin of Moby Dick is £50. This is a maximum line bet of £2.
What is the minimum bet for Moby Dick?
The minimum bet a player can place in the Moby Dick online slot game is £0.25.
Can I play Moby Dick on mobile?
Absolutely! Moby Dick can be accessed on a range of mobile devices. This covers Android and iOS systems. All of the same gameplay features make the jump to the smaller screen.
What is the RTP of Moby Dick?
The Moby Dick RTP game is 96%.
What is the biggest potential win for Moby Dick?
The biggest possible win in the Moby Dick online slot game is 200x your stake.
Moby Dick Slot Game on Mega Casino
Get your harpoon at the ready and head out onto the high-seas and spin the reels here at Mega Casino. The Moby Dick online slot game brings the iconic tale to life in a brand new way, drawing players into the exciting battle at the heart of the game with bonus spins, re-spin features, mobile play, and much more!