Get your tackle and your fishing rods at the ready as we prepare to try and catch ourselves a jackpot in Fishin Frenzy Jackpot King.
The much-anticipated slot is the latest take on the popular online slot game, Fishing Frenzy. The slot has also been given the Megaways treatment and now it is the turn of the popular jackpot king game mechanic.
Just because this is a fresh-take on an old classic though, doesn't mean that the game has lost any of its old charm with the upgrade. If anything, Fishin Frenzy Jackpot King manages to take everything that players love so much about the original online slot, and make it all the more exciting to play. So catch your lines out and let's see how much money you can catch with Fishin Frenzy Jackpot King slot online.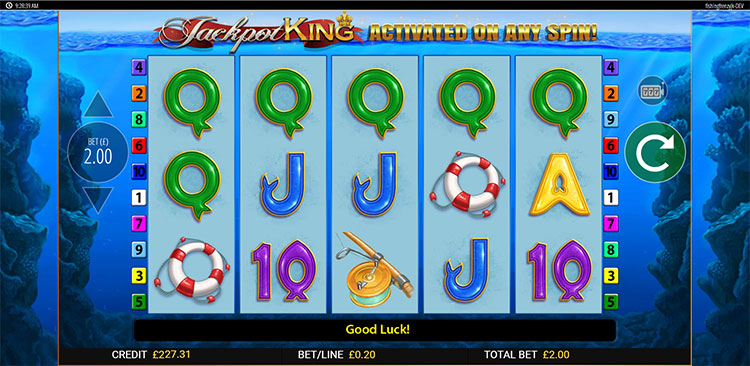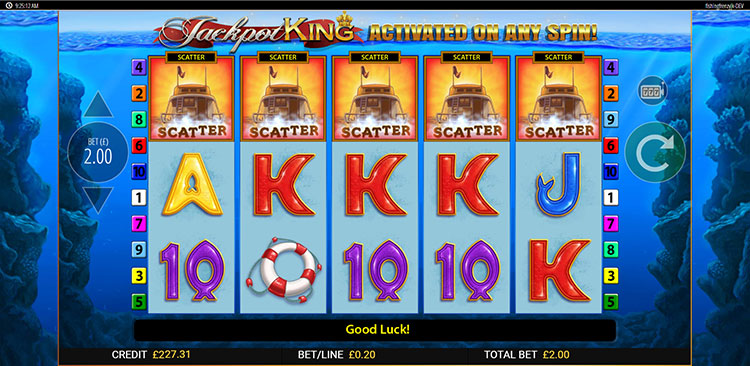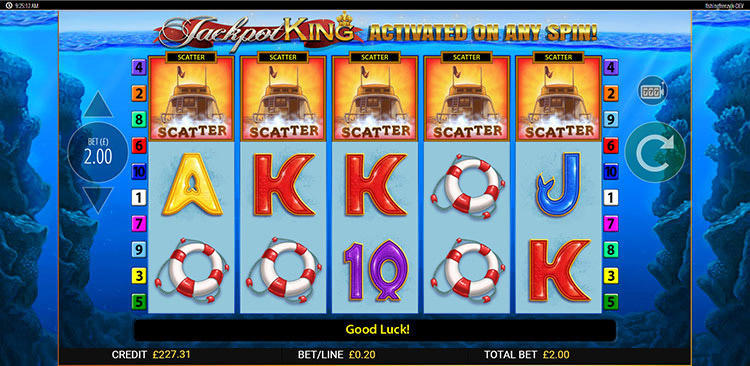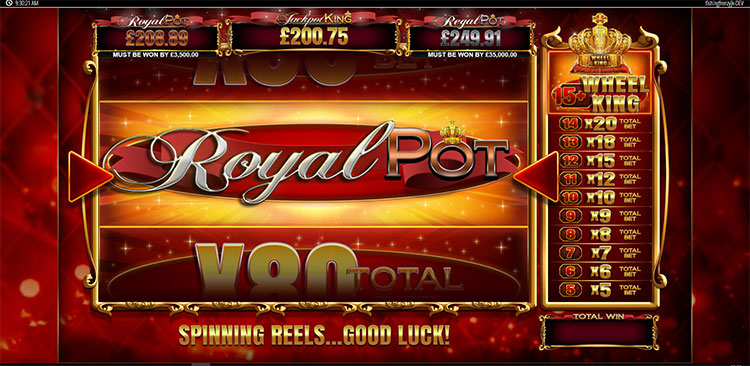 Fishin Frenzy Jackpot King Game Description
When it comes to relaxing, Sunday afternoon activities, there are few that can really compete with a spot of fishing. Fishin Frenzy invites you to recreate that calming experience from the comfort of your own home, only this time, it throws in some online slot action to make things all the more enjoyable.
Like the titles that came before it, Fishin Frenzy takes place under the sea itself. It has a beautifully rendered aquatic background, which subtly comes to life thanks to some well-realised animations. The game's sound effects also do a great job of capturing the upbeat nature of proceedings and really make you feel as though you are having a chilled afternoon going fishing.
How to Play Fishin Frenzy Jackpot King Slot Online
Like the sport on which it is based, Fishin Frenzy Jackpot King isn't too difficult to get started with. To kick things off, players need to select their stake. This is done by using the horizontal +/- buttons which are located to the left of the reels. The minimum that can be wagered in one spin is £0.10, while the maximum that can be wagered is £50.
The set-up of the slot is simple, with the game offering five reels and 10 pay lines. As its name may suggest though, this isn't all the game has to offer, with a big progressive jackpot also being dangled in front of the player's eyes as well.
The jackpot feature is what makes this slot different from the two other versions of the game. Players can trigger this by landing five of the jackpot king symbols on their reels on any given spin. This then gives players the opportunity to get their hands on one of the slot's jackpots. When this is triggered, players will go to a mini-game where they have to land crown symbols on their reels in order to move up the multiplier ladder.
This isn't the only bonus that is available here though. The slot also has a great free spins feature which players can trigger at any time by landing three or more of the slot's scatter symbols on their reels. This is the boat symbol that has the word scatter written underneath it.
It is during the free-spins rounds that the fishing starts for real. During the spins, a little fisherman symbol can land on the reels and catch any of the fish symbols that also appear during this spin. The fish symbols all have monetary values attached to them and will give your purse a boost if the fisherman can reel them in.
Fishin Frenzy Jackpot King also comes with a great autoplay feature. This really allows you to recapture the feeling of fishing by allowing you to put your feet up, kick back and relax while the slot does the heavy lifting for you.
Meet the Fishin Frenzy Jackpot King Characters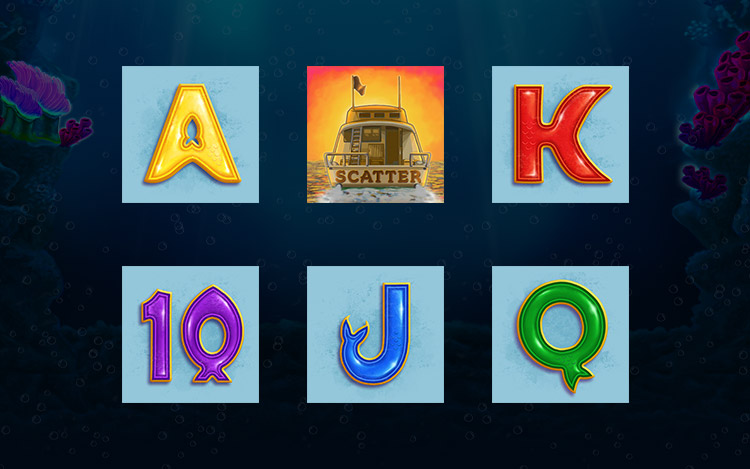 The deep blue sea is a place full of wonder and beauty. There are hundreds of thousands of marvellous little creatures floating under its depths. Before you get the chance to meet some of them though, you will have to get acquainted with the cast and crew of the Fishin Frenzy Jackpot King game.
In the slot, you get to play the character of the fisherman, and it's your job to try and catch the fish and help boost your winnings. You are not alone in the game though, there is also a cute blue fish with orange fins and a pelican, as well as several other characters who make an appearance in order to try and help you get your hands on some cash.
Fishin Frenzy Jackpot King FAQ
What is the maximum bet for Fishin Frenzy Jackpot King?
50
What is the minimum bet for Fishin Frenzy Jackpot King?
10
Can I play Fishin Frenzy Jackpot King on mobile?
Yes
What is the RTP of Fishin Frenzy Jackpot King?
93.32%
Fishin Frenzy Jackpot King Slot Game on Mega Casino
We love jackpots here at Mega Casino, and we also love the Fishin Frenzy game series, so it should come as no surprise that we love Fishin Frenzy Jackpot King. The team at Blueprint has once again managed to take one of their best products and upgrade it to make an even more enjoyable online gaming experience.